The Speed of Trust: Live a Heart-Virtue-Infused Heroic Life Prep Course
How to Unlock the Theme and Direction of your Heart Virtue
First watch the two videos below:
Why Anger is Good for you: Three Types of Anger
Yes indeed: if you don't know your own Core Values, you will end up being led by other people's or by their emotional upheavals.
And there is something even deeper than your Core Values, and that is your Heart Virtue/Core Integrity.
Another thing is this: Core Integrity/Heart-Virtue is who you are at your Core. And so, without knowing them and living them, there is no one there and nothing there to love, specifically.
A woman could have platonic love or Agape Love for such a man, but not Eros, only because Eros is always very specific. She needs a specific Mission to support and bless with her emotional creative energy.

That's another reason why it's so important to know and live your Core Integrity/Heart-Virtue.

So, when they say "Be Yourself", it's actually more accurate to say "Be your TRUE Self" and everything will flow from that.

The following statement says it best:
"What's in a name? Imagine being able to say something about yourself that you knew so deeply you got goosebumps every time you said it. Imagine it absolutely not mattering if anyone else understood you. Imagine getting excited at your own inner beauty simply by hearing yourself say a phrase about yourself.
If unconditional self-love is the key to a joyful life, abundance, enlightenment, then knowing your Heart Virtue is a beautiful tool to bring that forward." - Diana Lees
Your Heart Virtue is your deepest value that you were born with and that you're even willing to die for.
But it's actually more than a value. It's actually the unique aspect of the Divine that you came here specifically to embody. It's the Unique Energy Signature of your Heart. That's why it's the most important part of yourself you need to uncover to live a fulfilling life, especially when it comes to having fulfilling relationships.
There is nothing in the world more valuable than knowing your Heart Virtue: I can't emphasize that enough.
And yet, most people have blindspots to knowing your Heart Virtue. That's why you need a coach to unlock it.
Even a coach needs a coach.
Because there are some things you just can't do by yourself, for yourself, or to yourself.
For example, you can't make yourself laugh by tickling yourself.
You cannot give yourself a surprise birthday gift.
You cannot give yourself a two-handed bear hug that goes all the way around the waise.
You cannot make out with yourself.
And you can't know your Heart Virtue on your own.
Lucky for you, I can help you unlock your Heart Virtue - in two hours or less!
And it's not just knowing your Heart Virtue itself that is valuable.
It's the unique process I take you through that is life-changing.
Knowing your Heart Virtues also helps you create relationships that are aligned with your Heart Virtue. This helps you lead at the Speed of Trust, the fastest, easiest, smoothest way to lead.
First, you need to inspire trust.
That's what knowing and living your Heart Virtue does.
This course prepares you for a one-on-one Heart Virtue session with me which is the best way to know your Heart Virtue.
This course gets you to at least know your Core Values: the Theme and Direction of your Heart Virtue, which itself is highly valuable.
Click "enroll" to start now!
Your Instructor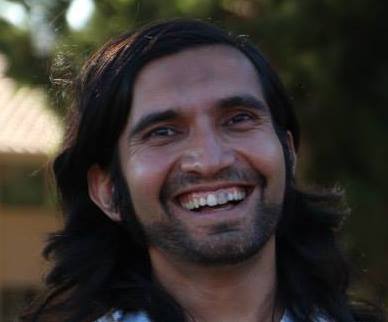 Kundan Chhabra is the Breakthrough Awakening Guide known for removing the root cause of your suffering in relationships.
He also teaches Emotional Alchemy, the art of transforming your emotional pain into fuel for your passion and life purpose so that you no longer have to be terrified of your own emotions nor feel blocked by them. Instead, you can use them as fuel for your passion and life purpose.
He also unlocks your Heart Virtue, the most heroic part of yourself you absolutely need to know to live an amazing life with clear boundaries and powerful direction.
For years he struggled with feeling lonely, sad, confused, powerless, trapped and even suicidal. He remembers thinking about jumping off the Golden Gate Bridge and repeatedly calling the suicide hotline.
Years later, after having one-on-one sessions with so many amazing coaches and healers, he discovered the relationship between feeling and thinking, between events and their meaning, between the part of him that feels painful emotions and the part of that is always free.
He learned how to be in touch with that part of himself that is free and clear no matter what negative emotions he feels.
Eventually he learned how to help others get in touch with it too. As a result, Kundan now take clients from their struggle and confusion to a place of freedom and simplicity.

His work has helped save marriages, end toxic relationships, and inspired his clients to lead more fulfilled lives with healthier connections of all kinds.
Frequently Asked Questions
When does the course start and finish?
The course starts now and never ends! It is a completely self-paced online course - you decide when you start and when you finish.
How long do I have access to the course?
How does lifetime access sound? After enrolling, you have unlimited access to this course for as long as you like - across any and all devices you own.
What if I am unhappy with the course?
We would never want you to be unhappy! If you are unsatisfied with your purchase, contact us in the first 30 days and we will give you a full refund.